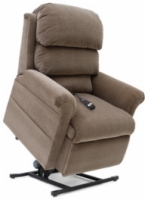 The latest iteration of Pride lift chairs, the LC-470 line, is based on the best-selling Elegance 470 lift recliner. Now you can enjoy the same luxury that millions of other Pride customers have, because the LC-470 is available in six different sizes to fit as wide a range of users as possible!

The Pride LC-470S is a small-sized lift chair made with a slew of great standard features. Each LC-470 lift chair is built with Infinite Comfort Seating to keep users relaxed and comfortable for hours, large dual pockets to store items you may want close at hand, and integrated battery backup to keep you mobile even during a power outage. Head and arm rest covers are included as standard features to reduce wear and tear, the chair back is removable to facilitate repositioning or moving your LC-470, and the steel lift frame is backed by a lifetime warranty!

Need more features? You can also have your LC-470 built with heat and massage units, an extended foot rest, or additional lumbar and head pillows at an extra cost - simply add them during checkout, or ask our sales representative when you call to place your order!