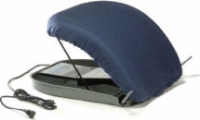 The UpEasy Powered Seat Lift adds a compact, powerful motor to give you full assistance in getting in and out of seats. It's portable and can be used on chairs and sofas found in the home. It has a washable waterproof cover and a 10 ft. cord. Recommended for 1-2 hours of use at a time.
Please note the following about all portable Seat Lift products:
Seat Lifts are not intended to replace a Lift Chair.
Seat Lifts are comfortable for, at most, a couple of hours at a time.
Seat Lifts do not work well on soft surfaces such as a couch.
If you intend to use a Seat Lift regularly for more than an hour at a time, we highly recommend a Lift Chair. In fact, a Seat Lift makes a good companion for Lift Chair users as it can give you a lift away from home, such as when eating dinner out or for a short visit at a family or friend's home.