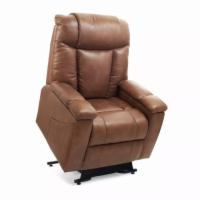 Take a vacation from your busy day in The Rhea. It offers an overstuffed back, plush chaise pad and an open arm design that holds numerous standard features that include two cup holders, two storage compartments, and a USB port.

Adding to your Rhea experience, your positioning options are endless with our 4-Zone Comfort Zone™ positioning system, which offers four adjustable positioning zones: footrest, backrest, headrest, and lumbar all operated by our programmable AutoDrive™ hand control.

Incorporating the latest in convenience and innovation, the Rhea features thoughtfully designed right and left arm compartments. When you open the right arm, you will find a cup holder and a storage compartment that also holds the AutoDrive hand control. In the left arm, you will find an additional cup holder, a USB charging port, and a second storage compartment that holds the HeatWave hand control.

As a bonus, you can use either cup holder without losing the comfort of the armrests thanks to the split design! And, for extra wellness and comfort, the Rhea comes standard with our HeatWave Technology providing far-infrared therapeutic warmth starting at your shoulders and continuing down to your feet.