Golden MaxiComfort PR505JP

[

PR-505JP

]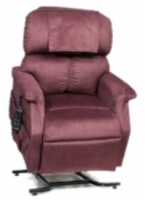 click to enlarge
With Golden MaxiComfort lift chairs you can experience the zero gravity difference. This spectacular resting position relieves virtually all pressure on the lower back and has beneficial effects on many other areas of the body. While resting in the zero gravity position you will experience expanded lung capacity and improved circulation on top of back pressure relief.
The Golden MaxiComfort PR-505JP is a super petite infinite position lift chair designed for total relaxation and relief. This lift chair allows for a greater range of positioning all at the touch of a button. Golden's Smart Tek system is included and allows you to diagnose problems quickly and easily.
Experience the difference of this new motion technology and feel what relaxation really means.
| | |
| --- | --- |
| Recline Positions | Zero Gravity |
| Back Type | Seam |
| Weight Capacity | 300 lb |
| Chaise Seat | Yes |
| Minimum Sugg. Height | 4' 6" |
| Maximum Sugg. Height | 5' |
| Overall Height | 39" |
| Overall Width | 30.5" |
| Floor to Top of Seat | 18" |
| Seat Depth | 18.5" |
| Seat Width | 19" |
| Battery Back Up | Yes |
| Head Rest Cover Included | Yes |
| Arm Covers Included | Yes |
| Left Hand Control Available | Yes |
| Heat & Massage Option Available | Yes |
| Foot Rest Extension Option Available | No |
| Fire Retardant (California Specifications; bulletin 117) | Yes |
| Warranty | Lifetime Chair Frame, Lift Frame, and Recline Mechanisms, 3-Year Electrical Parts, 1-Year Mechanical Labor, 1-Year Electrical Labor |

Customer Reviews
Fits Perfectly

Oct 8, 2017 11:59 PM

Releaved Daughter

from

Michigan

would recommend this to a friend.

A Little About Myself
Pros

Multi-position High quality made in the USA Petite size available

Cons
Service & Delivery

Timothy was very helpful and did all he could to ensure we had mom's chair as soon as possible as it was an urgent situation. We ended up ordering a different color (Pearl) so it would arrive sooner. Very nice, neutral color. She was in it a week after I had placed the order.

Bought this for my mom who has Alzheimer's and is having difficulty standing from a seated position or getting comfortable on her sofa or chairs without slouching. She also started to develop back pain. This chair works like a dream. No longer need to pull her up from the couch. The multi position feature enables her CareGivers to find to find the best spot for her. She naps in the chair during the day. The fit is perfect as mom is only 4 foot 10 and other chairs do not enable her to fully sit back on the seat. This supports her back better. The ability to sit the back up while keeping the legs in a reclining position is helpful.

Lift Chairs

replies:

Great to hear Timothy was able to accommodate a quick delivery! Thank you for the review, and please let Timothy know if you need anything at all.
Golden Understands that One Size does not Fit All!

Jul 21, 2017 3:55 PM

4 Feet 9 Inches a petite 112 Pounds

from

Chula Vista, California

would recommend this to a friend.

A Little About Myself

Physically Handicapped Female Senior 80+

Pros

Simple set up and connections. Perfect Fit for both comfort and support. Logical control function buttons for all modes of operation. Quality craftsmanship and materials. Easy controlled transition to/from chair/walker.

Cons

Have only had this chair for approximately 2 months. Optional standard side table not specifically compatible with the petite-junior sized chair. Repositioning of table forward resulting in contact with only one chair foot necessary to be able to rotate table in cross chair position in front of seated person. Control device needs "OFF" position for lights and functions.

Service & Delivery

Curb side drop off.

Support and comfort exceptional. Restlessness not and issue with multiple positions. Core posture improved by true fit support. No longer having to flop into chair or make repeated attempts to get out of chair.

Lift Chairs

replies:

Thank you for the review. You're correct, one size does not fit all! Lift Chairs come in a variety of sizes, and it's imperative that you find the right fit to be comfortable. We take great pride in being able to fit our customers perfectly right over the phone based on your height, weight, and personal preferences. Sorry to hear the the table isn't fully compatible. We're taking note of that, and will inform our product management team. Also, thank you for the critique of the lights on the control. You're not the first to mention this, and we are passing the recommendation along to Golden Tech, so that they can consider this for future designs.

2 of 2 people found this review helpful